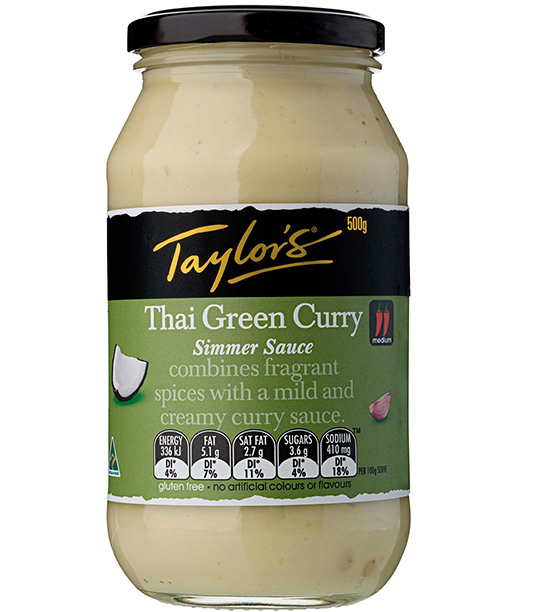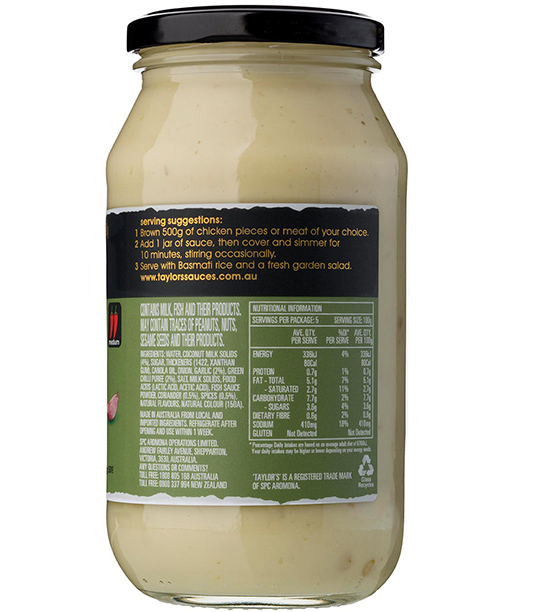 Taylor's
Thai Green Curry Simmer Sauce
500g
Ideal for chicken or vegetables, Taylor's Thai Green Curry draws on the delicious and authentic flavours of Thailand in this easy to use simmer sauce.
Online stores that stock this product
Nutritional Information
Nutrition
Avg Qty
Per 100g
Avg Qty
Per Serving
Energy
350kJ
84Cal
350kJ
84Cal
Protein
0.7g
0.7g
Fat, total
5.2g
5.2g
– saturated
2.5g
2.5g
Carbohydrates
8.4g
8.4g
– sugars
4.8g
4.8g
Dietary Fibre
0.3g
0.3g
Sodium
455mg
455mg
Gluten

Not Detected

Not Detected
Ingredients
Water, sugar, coconut milk solids (3.9%), thickeners (1422, xanthan), canola oil [antioxidant (307)], green chilli puree (2%), salt, garlic (0.5%), onion, plant extracts (carthamus, gardenia), milk solids, food acid (lactic), fish sauce powder, herbs and spices (0.2%), natural colour (150a).
Become a stockist today
Please contact us for more information about stocking Henry Jones Foods today.